The last few years have been full of upheaval – and 2023 seems to be no different, as a possible recession looms and inflation rises. The demand for quality talent has remained resilient, with the focus shifting to quality rather than team size. But, hiring is becoming tricky as both, candidates and employers, are in a wait-and-watch mode to avoid uncertainty.
What does it mean for the Leadership Hiring? 
What does it mean for the Leadership Hiring?
The race for hiring senior talent remains extremely strong as indicated in the global survey conducted by NGS Global and Economic Times (for Indian Subcontinent) with regard to the executive hiring market in 2023.
As per the Economic Times report, leading search firms including Korn Ferry, EMA Partners, Stanton Chase, and Odgers Berndtson state that despite a downturn in the overall job market, senior leadership hiring in India remains active at the top end.
Also, in the global survey conducted by NGS Global the results were evenly split, with 33% saying it is going to get worse, 30% saying that it will get better and calm down, and 37% saying that it will stay about the same.
The new world of work – more nuanced and personalized – demands a reset of priorities and new skills around listening, learning, and adapting to identify and address unmet needs. And this is clearly indicative of the shifting trends in leadership hiring and talent management practices and is industry-agnostic.
Let us discuss the 4 key shifting trends in leadership hiring that reflect the changing needs and priorities of modern organizations, as they seek to adapt to a rapidly evolving business landscape.
1. Innovation & Technology Transformation
Having sound knowledge of newer technologies has become a vital factor for C-suite executives in the South Asia region. It enables them to make informed decisions about technology investments, gain valuable insights into business performance, and communicate their vision effectively to their teams. As digital transformation continues to reshape the business landscape, the importance of this knowledge will only continue to grow.
The domains that are expecting tech-savvy leaders are analytics, digitalization, cloud tech, cloud security, cybersecurity, project management, asset management, lending, marketing, HR, and finance.
The Deloitte–WSJ Intelligence report found CEOs see technology leaders as their primary strategy partner, more than all other C-suite roles combined. They find them aligned on the importance of technology in driving key business strategy and performance indicators, including customer engagement and satisfaction, efficiency and cost reduction, employee engagement and productivity, top-line growth, and product and service innovation.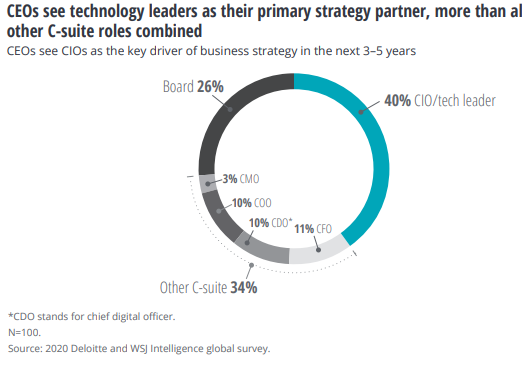 2. Diversity
Corporate India is pushing for gender diversity in the workplace and is set to hire more women within its ranks in the New Year, reported The Economic Times. The report said Schneider Electric is aiming to ensure 30 percent of its senior leadership and 40 percent of frontline managers as women, according to Rachna Mukherjee, CHRO India, and South Asia.
In a recent survey by Stanton Chase India(SCI) on gender equality in the boardroom-55% revealed that they have diversity targets for their boardroom.
Ashwini Prakash, Managing Partner (SCI), said that organizations that choose to look beyond discriminating factors like gender will be able to recruit from a larger talent pool. – "When a diverse, talented group of people work together, there is a better exchange of ideas, viewpoints, market insights, and problem-solving skills. This results in a high level of employee engagement and improved financial performance. A diverse organization not only signals an attractive working environment for talent but also a promising opportunity for investors."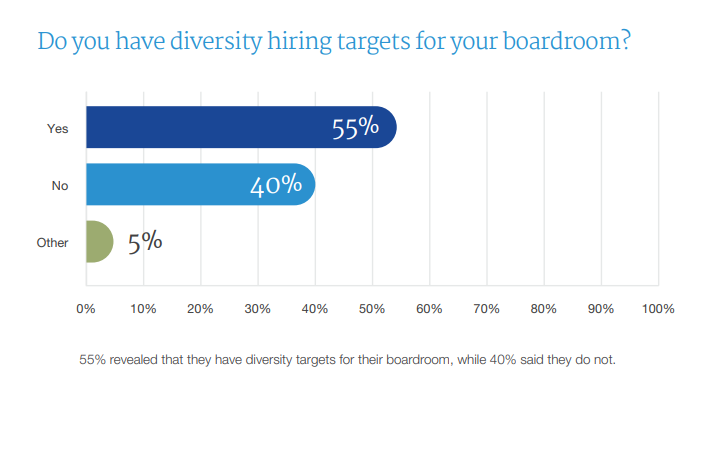 3. Inter-Industry Hiring
C -suite cross-sector hiring is on the rise signifying a growing appetite for companies to recruit senior talent from a different industry set.
According to the TOI Survey, close to 296 of 800 CXOs, or 37% of movements this year were inter-industry. Out of the 296 movements, Technology witnessed the highest number of candidates from other industries. The Financial sector also saw a fair bit of outbound talent (13%), the Consulting and the Industrial sector witnessed a 5% and 16% shift respectively.
"Some niche CXO roles have been in such high demand such as chief digital officer / chief technology officer that hiring the right incumbent is more important than hiring from the same industry. Such roles demand a diversity of experience. Successful searches are about finding those with good exposure across different industries than just the industry expertise that is asked for."- SV Nathan- Deloitte India Partner and Chief Talent Officer.
Also, in a survey conducted by Stanton Chase India, it was asked whether the business would consider hiring leadership talent from other sectors and industries, to which more than two- thirds (64%) said yes.
4. Flexibility
There is evidence that a lack of hybrid, remote working may lead to attrition. Companies need to be well-positioned to engage those candidates seeking hybrid, flexible work options.
LinkedIn Sales Director Cara O'Leary recently revealed that flexibility has become the number one priority for candidates even at the C level. Flexible working isn't just remote or hybrid working but it can also mean employees making use of job-sharing, flexi-time, and working compressed, annualized, or staggered hours.
New global C-level research from LinkedIn, which surveyed 2,929 C-level executives from organisations reporting turnovers of $280M, indicated Flexible Work (68%), Skills Development (74%), and Employee Wellbeing (75%) as important areas of working life.
What it means for Recruiters?
From Organization's Point of View -> This is a clear indication that hiring companies are prioritizing a new set of leadership traits with a leader's ability to lead virtually, high emotional intelligence, technology-focused, and resilience.
From Candidate's Point of View -> Existing, often static, EVPs are no longer enough to attract high-quality talent. Gartner research finds that 65% of candidates have cut short the hiring process because they found certain aspects of the job (e.g., work-life balance, development opportunities, company culture) unattractive.
Conclusion- Agility is the Key Factor in Successful Recruiting
To find the best leaders that are out there today, recruiters need to be more flexible in their approach and scope of search. This translates into a willingness to look beyond the set parameters of a given position and the ability to prioritize digital skills and adaptability.
"Effective recruiters have always had a formidable arsenal of skill. But moving forward, the best recruiters will be curious and adaptable, with a learning mindset."- Amy Schultz, Senior Director of Talent Acquisitions at LinkedIn.
Kavita Sharma,
Principal Consultant – Management consulting & Strategy