The Rise of the Technology Leader
Technology has become an essential part of almost every aspect of modern businesses,
leading to a significant evolution in the role of technology leaders. These leaders now face more complex challenges and have a greater impact on the success of their organizations. Their roles have also gained more prominence and significance, reflecting the vital role that technology plays in driving growth and innovation within companies.
One example of a technology leader driving this transformation is Aashima Gupta, the Global Head of Healthcare Solutions at Google Cloud. The healthcare industry has traditionally been slow to adopt new technologies, but in recent years, there has been a significant push toward digital transformation.
Gupta has been instrumental in helping healthcare organizations leverage the power of cloud computing, artificial intelligence, and machine learning to improve patient outcomes and streamline operations, like the Healthcare API and the Clinical Data Analytics Platform. These tools allow healthcare providers to securely store, manage, and analyze patient data in real time, enabling more personalized care and better clinical outcomes.
Gupta's success in driving innovation in healthcare through technology is just one example of the rise of the technology leader. As more industries recognize the potential of technology to transform their operations and drive growth, we can expect to see more leaders like Gupta emerging across different sectors.
As per the Economic Times report, that the average number of AI capabilities that organizations use, such as natural-language generation and computer vision, etc. has doubled—from 1.9 in 2018 to 3.8 in 2022. (And this was before the launch of OpenAI's ChatGPT)
Also, the level of investment in AI has increased alongside its rising adoption.
According to the 2021 CTO Study conducted by IBM, CEOs at the top 20% of organisations ranked technology leaders as critical to financial success second only to CFOs.
The below illustration from McKinsey may explain WHY?
Organizations with stronger technology measures report a financial performance premium relative to those with lower tech measures.
Not just this, we are also seeing a further evolution of Tech Leadership, with 4 distinct areas of focus that have well-defined and distinct responsibilities. Let us take a look at them below.
Chief Technology Officer - CTO
As the top technology executives in their organizations, Chief Technology Officers (CTOs) are responsible for establishing and enforcing the firm's technology standards and best practices. They play a crucial role in communicating technical concepts and recommending technology solutions to senior management.
In addition to their advisory duties, CTOs are also responsible for overseeing the
implementation and management of data systems and ensuring their ongoing effectiveness. The CTO also develops strategies to increase revenue and performs a cost-benefit analysis and return-on-investment analysis.
Depending on the organization and its structure, a CTO may play one of several roles, including strategic planner, customer relations liaison, product development, tech infrastructure, etc.
One key example of a CTO playing a significant role in transforming a company's business is the case of Amazon. In the early 2000s, Amazon had become good at scaling but was struggling to overcome its latest challenge which was to do orders of magnitude. In 2004 the company brought in Werner Vogels as its CTO.
Vogels led a major transformation of Amazon's technology infrastructure, moving it to a more scalable, cloud-based system that could better handle the company's growth. This transformation not only helped Amazon improve its operations but also paved the way for the launch of Amazon Web Services (AWS), which is now one of the leading cloud computing platforms in the world.
His example shows how a CTO can play a vital role in shaping a company's strategy and vision by leveraging technology to create new business opportunities.
Chief Information Officer – CIO
A Chief Information Officer (CIO) is typically responsible for the overall IT strategy and implementation of a company's technology infrastructure. They need to align IT strategy with business priorities.
Previously, the CIO role was primarily concerned with managing IT services, but this has
evolved as companies have become more modern. Today's CIOs are focused on developing strategic plans and visions while delegating the day-to-day operations of IT management. Target CIO Mike McNamara, is one example who insourced tech and modernized platforms to play a significant role in business transformation.
In 2017, the retail giant hired Mike McNamara as its new CIO, to revamp its technology infrastructure and enhance the customer experience. Under McNamara's leadership, Target also continued to invest in new ways of working. Teams adopted agile and DevOps methodologies and began the shift to a product-focused model that relies on fast-moving, cross-functional teams.
Target's continued technology investments proved useful when the pandemic hit in 2020, enabling initiatives such as contactless pick-up locations and same-day home delivery. The new approaches to work, paired with increasing flexible technology architecture, allowed teams to quickly spin up new services in response to market changes.
The ability to adapt quickly helped Target grow sales by
over $15 billion
in the fiscal year 2020, higher than the company's sales growth over the past 11 years.
So does that mean CTOs and CIOs are the same?
The CIO is more focused on technology infrastructure and operations, whereas the CTO is more focused on setting technology strategy.
The CIO typically looks inward, aiming to improve processes within the company, while the CTO looks outward, using technology to improve or innovate products that serve the customers.
CTOs are responsible for engineers and developers, whereas CIOs are responsible for IT operations and infrastructure.
Ultimately, however, it is the collaboration that fuels the most impactful business results.
Chief Digital Officer – CDO
The CDO is another IT leadership role focusing on digitally transforming traditional businesses– translating analog business processes into digital ones.
This shift, widely referred to as digital transformation, can entail major changes to an
enterprise's technology architecture, business processes, products, roles, job descriptions, and corporate culture and thus can span several years. Strategic leadership and managing change are, therefore, important elements of the CDO role.
In 2015, Mahindra & Mahindra (M&M) hired a CDO, Jaspreet Bindra, to drive its digital transformation efforts. Bindra's mandate was to develop and implement a comprehensive digital strategy that would enable M&M to leverage emerging technologies and trends to transform its operations, improve customer engagement, and drive growth.
Under Bindra's leadership, M&M launched several innovative digital initiatives, including a connected car platform, an IoT-enabled logistics platform, and a digital marketplace for spare parts. Bindra also worked to develop a strong digital culture within the organization, promoting agile development practices and encouraging experimentation and innovation.
Though Bindra left M&M in the year 2018, it has made significant progress in its digital transformation journey, with a reported 10% increase in revenue from digital initiatives in the 2021 fiscal year. 
His example highlights the critical role that a CDO can play in driving business transformation by leveraging emerging technologies, fostering a culture of innovation, and promoting collaboration and partnership.
Chief Product Officer – CPO
The CPO is to the business's product what the CTO is to technology.
For the most part, Chief Product Officers work at companies in science and technology, and increasingly in the rapidly growing fields of healthcare and life sciences. 
According to a LinkedIn report, over 15% of Fortune 5000 companies now have a CPO
among their top executives, whose vision comprises a 360-degree view of the business and a sharp acumen for designing the best products.
Craig Miller is one name that comes to my mind whenever one talks about the revolutionary CPO. Miller, the former CPO & CMO of Shopify joined the company when it was worth less than $100M and had 70 employees, and by the time he left, it had grown to over $130 BILLION and 10k employees.
As a result of Miller's efforts, Shopify has continued to experience strong growth, with its stock price nearly tripling in 2021. His example highlights the critical role that a CPO can play in driving business transformation by focusing on product innovation and customer- centricity.
Another interesting example of a Chief Product and Technology Officer (CPTO) playing a significant role in business transformation in the Indian market is the case of Flipkart, which hired Jeyandran Venugopal as its CPTO in May 2020. Venugopal's mandate was to lead Flipkart's product development efforts and to drive growth through innovation. He recognized that to succeed in the highly competitive e-commerce industry in India, Flipkart needed to continually enhance its product offerings and provide new and innovative solutions to its customers.
Under his leadership, Flipkart has launched several new products and features, including a hyperlocal delivery service and a voice-based conversational interface. He has also focused on leveraging data analytics and artificial intelligence to personalize the customer experience and optimize operations.
As a result of Venugopal's efforts, Flipkart has continued to experience strong growth, with a reported 45% increase in gross merchandise value (GMV) in the 2021 fiscal year. His example highlights the critical role that a CPO can play in driving business transformation by focusing on product innovation and customer-centricity, even in highly competitive markets like India.
Chief Product Officer vs. Chief Technology Officer
Both the CPO and CTO share a common goal of delivering optimal outcomes for customers. However, the CPO is primarily responsible for defining the "why" of the product and aligning it with the company's vision. This involves understanding customer requirements, developing a roadmap, and defining the phases and tasks needed to create the product.
On the other hand, the CTO focuses on the "how" of the product, which involves creating a product with cost-benefit analysis and other values in mind. The CTO is responsible for
determining which technologies can be used to improve the products and services being
offered.
A CPO makes all the 'product' decisions. A CTO investigates the product development aspect.
Recruitment at Tech Leadership Roles
At LakshHR we are witnessing key shifting trends while hiring for various tech leadership
profiles such as:
Fewer Years of Experience – Earlier relevant/mandatory experience required for a tech leader profile was 20+ years, whereas these days' companies are willingly hiring candidates with 10+ or even fewer years of experience to lead their tech initiatives.
Brilliant at the Basics- Earlier the role involving the top executives such as CTO or CIO did not expect them to be 100% hands-on with the latest technology or the core domain they are leading. But, these days the technology leader should be retaining their hands-on technical skills even as their careers advance, such as coding, programming, and architecture etc.
Greater Involvement –They are also expected to be personally involved in the business development process to deliver tangible benefits, playing a critical role in improving transparency and accountability.
Technology won't just be the icing on the cake – it'll be the whole darn cake.
Given this, I expect you will see more Technology Leaders becoming Operational Business Leaders especially in a digital age where what is business and what is technology becomes harder to judge.
Remember one who wields power over technology also wields power over the entire enterprise.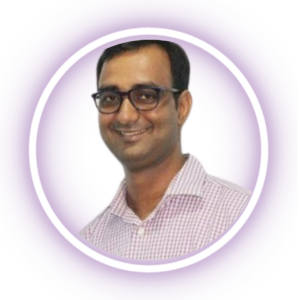 Prashant Jha, Partner