Why We love doing what we do at Laksh!
1. We love solving that talent need of businesses, our clients – the match making, the looking at 100s of profiles to find the ONE. A good hire can make the life so much simpler – its tough to build something as it is. Making a bad hire cost you in terms of opportunity, energy and time, apart from money!

2. We like helping people find their calling. Most of the times we just chase money or a title. Amazing things cand happen if you can help them get a balance with mental peace and a sense of purpose. Doesn't happen often, but when it happens, its magic!

3. We love to see how people are evolving. "No man ever steps in the same river twice, for it is not the same river and he is not the same man." You get to see up and close how people are evolving. And sometimes, you get to guide the flow

4. Its our calling. We get a kick when we finally close that position that nothing else really matches.

5. The learning – The industries plain vanilla services to captives to product to blockchain and now Metaverse and AI – the functions, technologies, skills, qualifications – they all keep evolving. We keep learning, we keep growing.
We value your growth
Career growth is important, we understand and stand by our commitment to ensure every team member at Laksh HR is given a transparent career path with ample learning opportunities, trainings and is topped with a safe and inclusive working environment.
"At LakshHR we believe that each individual is unique and hence their growth plans are individualistic too. It's not necessarily the skill that we seek but the 'will','go getter attitude' and the hunger to achieve of the individual that draws our attention to them. Opportunities are immense as there is freedom to explore and experiment in all aspects of everyday work.
Prashant Jha, Partner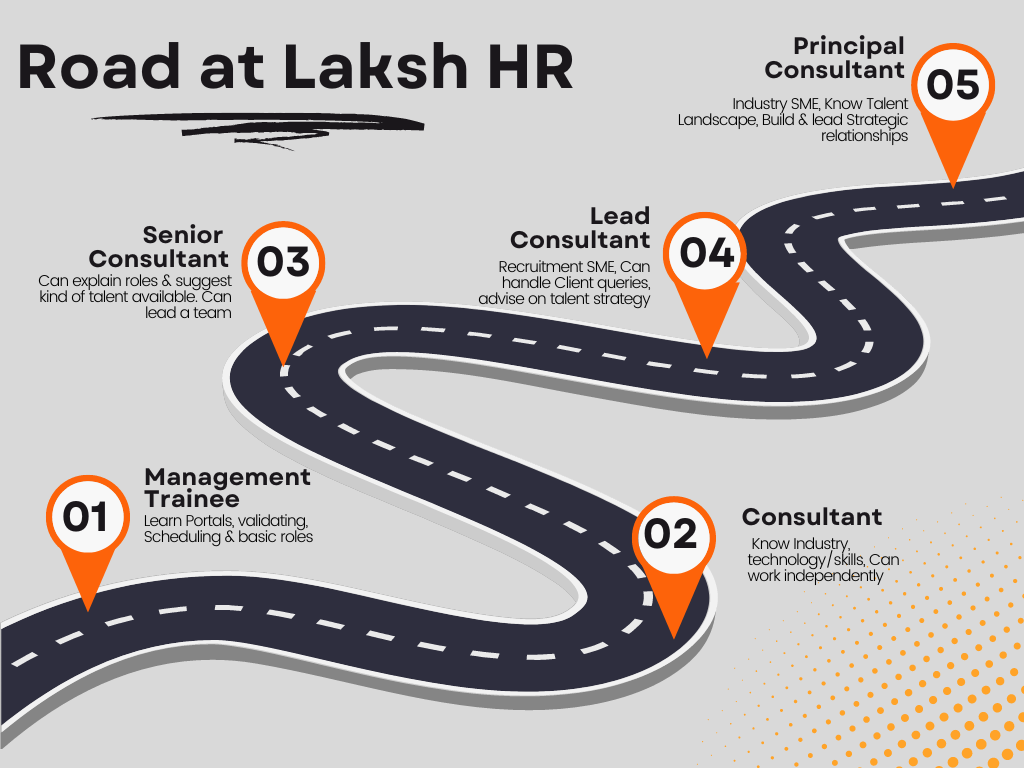 I've been a recruiter for four and a half years. On the most fundamental level, recruiting is a triad. All recruiting comes down to three basic decisions:
1) Time,
2) Cost, and
3) Quality.
Recruiters should learn two words: Resilience and Patience. The process of identifying,attracting, interviewing, selecting, hiring, and onboarding employees is a cyclical one.

We can never be good recruiters if we fail to define resilience as being based on compassion for ourselves and for others. When we become resilient, we learn to embrace the beautifully broad spectrum of human needs, wants, dejections, and the entire human experience.

Personally, I believe recruitment is an art—finding a balance between the sciences of recruiting and understanding the human condition. We can identify and source candidates. We can post a job on LinkedIn or send InMails, emails, or text messages to potential candidates. We can even use traditional strategies like holding a recruiting event with onsite interviews.

I can even talk about the endless modern recruitment tools. But at the end of the day, how you make the candidates feel about your company or client will be a determining factor in whether or not they are interested. I also believe it has a lot to do with communication. In fact, studies show that what job seekers want most in their hiring journey has to do with communication.

Hence, I have this unshakeable belief that AI can never take over recruitment!

Communication is one of the most essential recruitment skills because not only are recruiters the crucial link between candidates and the company, but they also have a variety of other responsibilities that require well-honed communication skills. We should be able to read candidates well, engage their active listening skills, convey candidate information to relevant people, and relay disappointing job rejection news. At Laksh, we take full advantage of the recruitment tools available to source candidates, but we go the extra mile to focus on understanding the cultures of the businesses we work with and the above-mentioned human experience! It's fulfilling to work for Laksh as it is a place to learn, unlearn, and master this fine balance of recruitment. Multi-industry exposure and macro management (bosses who guide, support, and double up as mentors too) has helped me grow holistically. At its core, recruiting is a rather simple concept—it encompasses identifying candidates and hiring them to fill open positions. However, effective recruiting combines a bit of art with science. On the one hand, it requires implementing repeatable processes that will lead to reliable results. On the other hand, it requires sophistication to think outside the box in order to find your ideal candidate, making it one of the most challenging jobs!