Fractional CXOs: The Trend of Leading by Fraction
The conventional notion of gig work is that it is typically associated specific skills such as driving, delivery, design, and content creation. However, is it possible for gig work to extend to the leadership level?
Yes.
Welcome to the era of Fractional Leadership!
Fractional CXOs are the new game in town, helping start-ups to scale up, and allowing experienced professionals to apply their skills over a wide spectrum and with flexibility. Lets see where we can use CXO's and best practices on how to hire and engage them.
Which companies need an interim or fractional commercial leader?
Fractional leadership can benefit bootstrapped start-ups and IPO-chasing behemoths, but the most value arrives as companies scale after a fund raise (Seed to Series C).
The need for experienced leadership, strategic insights, and effective management still remains crucial for scaling start-ups but may not be financially feasible or practical.  This is where fractional c-suite executives with years of experience can provide a valuable solution, particularly when junior team members require guidance or specialists need leadership to expand their capabilities.
Not just companies, executives are also beginning to explore the fractional model – Sundeep, an Ex-CEO with over 20 years of experience, says
"As a Fractional CXO, I leverage my experience and expertise across multiple startups and companies, rather than just one. This means many more learning opportunities and exposure to diverse business models and latest technologies.
Also, this way I can make a broader impact by applying my expertise at a higher scale than what I could achieve within a single organization." –
Scalewise's May 2022 survey of senior B2B tech leaders found four in five (79%) companies who had considered hiring an interim or fractional commercial leader did so in the last 12 months.
Undoubtly, scaling companies are recognizing the value of interim and fractional leadership as a more cost-effective approach that allows them to pay for the specific leadership expertise they need, without incurring long-term commitments or unnecessary risks. These fractional leaders, who are seasoned commercial experts, can be matched to the unique needs of a company, providing efficient and targeted solutions.
Let me explain with a hypothetical scenario:
Let's consider a technology-driven scaling start-up looking forward to a Chief Technology Officer (CTO) to lead their technical operations and drive innovation which may be the ideal solution in some cases.
However, this option can be financially demanding, involving a substantial investment in salary, benefits, equity, and other expenses. Finding a highly qualified and experienced CTO who aligns with the company's culture and vision can also be time-consuming and challenging.
The start-up brings on a seasoned fractional CTO for a specific number of days per week or month. This allows the company to access the expertise of a high-caliber technology leader without the financial burden of a full-time hire.
The fractional CTO can provide:
Strategic guidance
Oversee technical operations
Mentor the existing team
Drive innovation while keeping costs under control
This option also provides the flexibility to scale up or down the fractional CTO's involvement based on the company's evolving needs.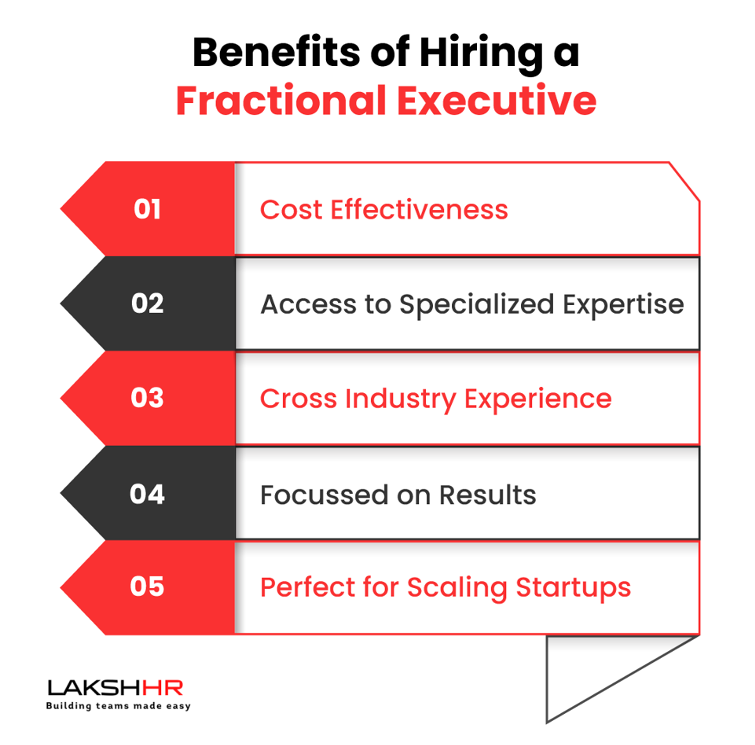 As Fractional Executives have grown in popularity, they've started to structure under the model of Part-Time – Flexible Engagement. This is where the Fractional Executive gets our original definition: Working as an executive on a fractional, or part-time, basis.
From the company's perspective, hiring a part-time fractional executive is more cost-effective than a full-time executive, Meanwhile, for the leader, the part-time nature of the role provides the opportunity to engage in multiple roles simultaneously.
Popular Fractional CXO Roles
Determining the Compensation for Fractional Executives
A fractional leader work in a hybrid capacity for a couple of companies at the same time, tackling a variety of challenges and goals. They usually work for an agreed day rate (a fraction of the salary) per day depending on the task and specialism along with number of working hours.
Remember Fractional Executive is not a Consultant
Fractional Executive roles fall somewhere between Advisors and Interim Executives — leaders who work at a company for a set duration of time and explained precisely by the Reforge below.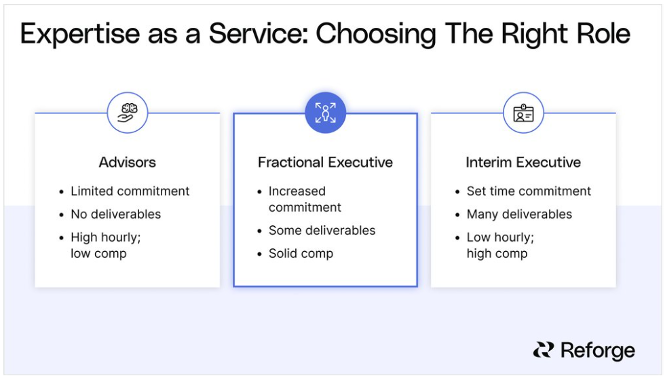 Why Leaders are going Fractional
Freedom and flexibility
Lack of opportunity
The excitement of working with multiple startups and scaleups
Higher Income – typically 50% premium on full time cost
Ability to make a higher impact
Common Challenges in Engaging a Fractional Executive
Trust is the biggest challenge that both companies and CXOs site. As someone working as a fractional CMO shared –
"The biggest drawback is lack of trust on sanctity of proprietary information. If the companies which are hiring the Fractional CXOs do not have that trust in them, then the model will not work." Says a CMO who didn't want to share his name.
Another issue is the occasional stigma attached –  as fractional CXO is still misunderstood, the candidates face some stigma sometimes in social circles. The companies also face a challenge in explaining this to stakeholders.
Apart from this, the other big challenges are-
Limited Time and Availability: Fractional Executives typically work with multiple clients simultaneously. As a result, their will be time and availability constraints. This is best handled by avoiding giving operational responsibility as far as possible and establishing clear expectations regarding their availability and communication.
Understanding of Company Culture: They require time to familiarize themselves with your organization's unique culture, values, and dynamics. It is essential to provide them with enough context and facilitate open communication to ensure a smooth integration within your team.
Alignment of Long-Term Goals: As fractional leaders are engaged on a part-time or temporary basis, aligning their goals with the long-term objectives of your company can be challenging. Transparent discussions about desired outcomes and defining key performance indicators (KPIs) are vital to ensure their efforts are in line with your organization's vision.
Knowledge Transfer and Continuity: Fractional executives bring their expertise to the table, but their departure from the engagement may result in a knowledge gap. It is important to plan for effective knowledge transfer, documentation, and ensure continuity to prevent any disruption to ongoing projects or initiatives.
Collaboration with Existing Team: Often Fractional CXOs will not be given the weightage they need because of their engagement model. OrganisaSeamless integration with the existing team is crucial for the success of a fractional executive engagement. Ensuring open lines of communication, fostering collaboration, and addressing any potential resistance from team members are essential steps in creating a harmonious work environment.
Step by Step Guide for hiring Fractional CXOs

Define Your Objectives: Start by identifying the key areas in your organization where a fractional executive can make a significant impact. Clarify your goals, whether it's launching a new initiative, optimizing operations, or solving a specific problem. This will help you pinpoint the skills and expertise required from a fractional executive.
Seek Referrals and Recommendations: Leverage your professional network, industry associations, or trusted advisors to gather recommendations for fractional executives. Seek referrals from individuals who have first-hand experience working with these professionals. Their insights and endorsements can guide you towards finding the right fit for your organization.
Evaluate Expertise and Fit: When evaluating potential fractional executives, carefully assess their expertise, industry knowledge, and track record. Look for relevant experience and success stories that align with your business objectives. Consider their ability to adapt to your company culture and work collaboratively with your team.
Conduct Thorough Interviews: Interviewing candidates is a crucial step in the hiring process. Use this opportunity to gauge their communication skills, problem-solving abilities, and alignment with your organization's values. Ask probing questions to understand their approach to challenges and their ability to deliver results within a fractional role.
Check References: Request and contact references from the fractional executive's previous clients. This will provide valuable insights into their performance, professionalism, and the impact they made on those organizations. Ask about their communication style, reliability, and their ability to meet expectations.
Define Expectations and Scope of Work: Clearly outline the expectations, deliverables, and scope of work for the fractional executive. Ensure that there is a shared understanding of objectives, timelines, and key performance indicators. This will help manage expectations and facilitate effective collaboration.
Establish Communication and Reporting Channels: Establish regular communication channels and reporting mechanisms to stay aligned with the fractional executive. Determine how often you will meet, the preferred methods of communication, and the key stakeholders involved. Clear and open lines of communication are essential for success.
ESOPs for Fractional CXOs?

Given that many growth-stage companies offer ESOPs as part of the compensation, it remains to be seen how it pans out for fractional CXO roles. This is because in most cases, ESOPS have been explored for leaders working on a full-time basis
Also, issues around confidentiality of work and the strategic nature of it can raise questions against fractional leadership. But can these be addressed through documents such as non-disclosure agreements and by building trusted partnerships with fractional CXOs?
Conclusion:
Flexible work is on the rise — and both individuals and companies can benefit from it. Engaging fractional executives offers companies the opportunity to swiftly expand, experiment, or enhance their operations in new areas by tapping into specialized expertise.
This arrangement also allows for greater equity and fulfilment for experienced leaders while providing efficiency for growing businesses. Sometimes these arrangements transition into a full-time executive role, and sometimes they sustain as fractional roles for years.